Office work, web surfing and printing? I'd go for the other device!
We merely sought to purchase a small laptop computer in an electronics outlet but now we were critically eyed by the sales clerk. His vest, bearing the logo of his company, was way too big but he wore it proudly like a suit of armor.
Many of us gravely underestimate the system requirements of modern software. The laptop was supposed to be cheap, small, silent and with decent battery life, that much we figured out for ourselves. Now struck the hour of the salesman.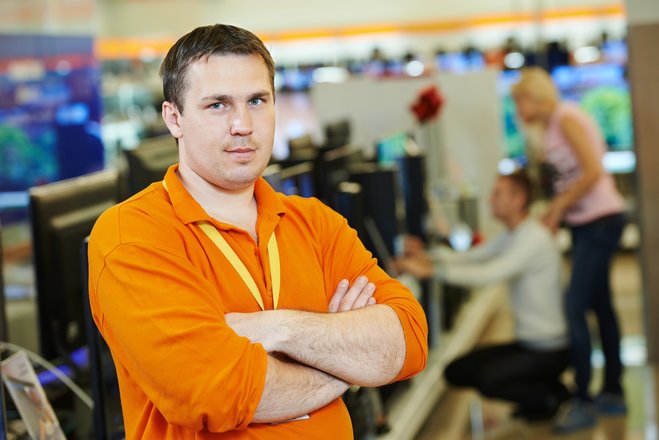 I could certainly sell you a cheap device that may do fine the first couple of weeks. But what about future-proofness? He took off his glasses and let out a big sigh. Suddenly, purchasing a laptop seemed like a life decision.
Don't deny yourselves the joy and luxury of high performance. A solid state disk drive can really work wonders here and 8 GB of RAM will do the trick, I couldn't help but picture my friend wrestling with an Excel table or LOL! posting on Facebook. You should definitely go for the i7 processor. This is an absolute must for modern browsers and multimedia applications. That was news to me and, alas, I let it show.
His tone immediately went from dark prophecy to your dog has died and his facial expression spelt certain doom. Have you any idea what it means for your PC to run antivirus, office, browser and chat applications simultaneously? There was an element of trauma and brutality in his voice but I opted to stay silent. He might have beaten me up with a keyboard, otherwise. Imagine you're surfing in private mode. This basically means your computer is running two browsers at once. Two browsers! I'm sure you can understand the immediate performance hit on your machine? Both of us looked at him in amazement but most likely for different reasons. But he wasn't finished yet! None of have any idea what Windows 10 will bring but there is a lot of talk... He blinked at us conspiratorially. Certainly, his old buddy Bill Gates personally keeps him posted on the latest affairs. You get what you pay for! Had this been a theater play, by now, the first corpse would have surfaced.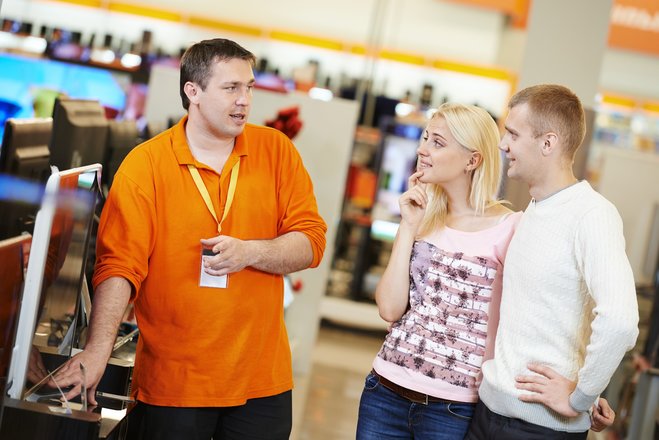 He suddenly turned around and pointed at the one device that would save us all. Fast, future-proof, immune against evil browsers, the eerie Windows 10 and almost $1000.
I can let you take home this gem in good conscience. I can guarantee that you'll be happy with this computer! So there still was hope, if not on cheap terms. This was the moment the show was over and I informed him of my computer science background and my being a passionate tech nerd. We soon left, naturally without a computer.
Dear retailers, we do like to shop at your stores. We don't want barren downtown areas devoid of stores, we want guidance and service on site and we are willing to pay a little extra for all this. We head into crowded shopping districts, hunt for parking spaces and shove past brainless teasers. But we expect something in return! Specialists that ask questions and find devices that suit our needs. If you're working in this area, stay up to date on the latest technological trends and developments and don't prey on the cluelessness of your customers. Take the time to try out devices to find out which ones get really hot, have a built-in DVD drive or roar like a vacuum cleaner. We can read the product description ourselves. Don't advertise obsolete technology as new and cheap, we will catch on to that. Don't allow shills from other companies to blend in with your staff to sell their products, that is a giant breach of trust! If you claim to be expert stores you have to be experts yourselves. A big shout out to all retailers that do exactly that and offer honest, expert advice: Keep it up, we need you.
The Internet age has arrived and won't go any time soon. You can shop at home on your sofa, compare prices, read tests and customer reviews and have the goods shipped to your doorstep. To counter this trend, retailers have to offer more than just stand idly by or try to sell anything. Only fair and competent advice, decent service and genuine tips will make us (regular) customers. So either put up or close up - we just aren't that stupid.