A Christmas purchase that turned out to be fun - the SCISHION V88 TV Box
Christmas time - time for presents, so I went looking downtown (and on the Internet) to find gifts for my loved ones. And if you're into tech, you'll also have to deal with order requests from friends and acquaintances that usually start off like "You know these things" and end with a comprehensive requirements list. In this case, I couldn't stop myself and had to try out my most recent purchase for you - and I was pleasantly surprised.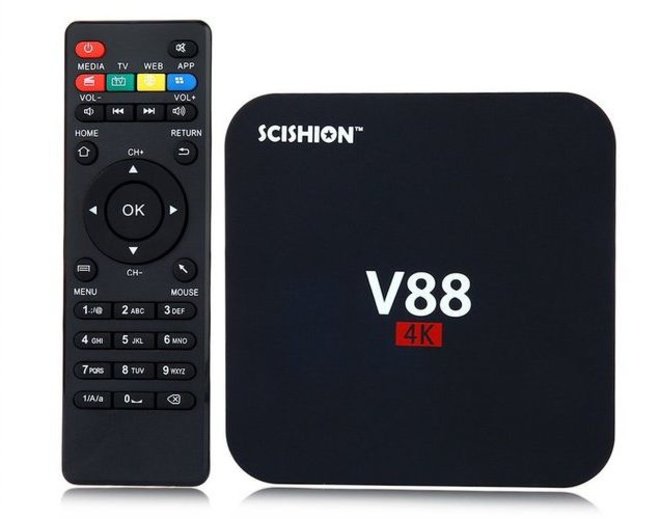 Someone was looking for a TV box. Easy to use, lots of ports and highly versatile. The gift receiver was supposed to be able to connect USB sticks, display Full HD content on their TV and ideally play video streams and games. And the whole thing should be fairly affordable, you don't want to run into debt on Christmas. Two hours and multiple product reviews later, my choice fell on the SCISHION V88 TV Box for a mere $25. 15 days later, it arrived from China and was immediately unboxed. I found a Power supply, an HDMI cable and, finally, a small, light box - everything you need.
From the outside, the little plastic box didn't look like much but the ports were worth taking a closer look. There was an impressive 4 USB 2.0 ports, an SD card slot and a RJ45 port (for the LAN cable, WLAN is also supported). This should be enough to please even multimedia zealots with an extensive hard disk collection. Naturally, the output options included HDMI 2.0 to hook up a TV but also S/PDIF and AV for sound output - an impressive list for such a small price. There was nothing else to see so I decided to set it up and plug in 2 hard disks and a USB stick. It was a lot of tech for a box measuring less than 4 inches squared and weighing under 150 grams.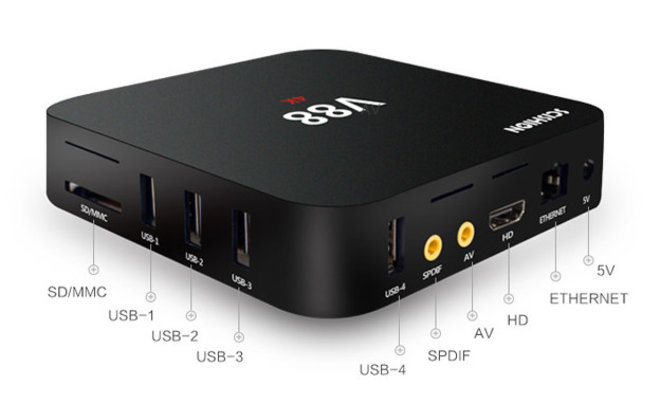 Starting it up took around 30 seconds and revealed that the device was running Android 5.1. If you already own an Android phone or tablet, you'll quickly find your way around. Though they've added a nice, structured menu, under the hood, it was just plain Android 5 Lollipop so setting up a WLAN connection and downloading a few updates was straightforward. One thing I noticed right away was that the responsiveness was quite okay - it wasn't lightning fast but also not sluggish. The box is powered by a 1.5 GHz quad core CPU with 1 GB of RAM which makes for acceptable performance. The available 8 GB of storage space are entry level and will be sufficient for most apps but won't do for Google Maps, navigation software or other storage hungry programs. You can always increase the storage space with a SD card of up to 16 GB though.
Unfortunately, the remote control required good aim to work, I'd rather use a small USB keyboard with a touchpad to operate the box but if you need to input digits or text frequently, that's the only way to go anyway. Bluetooth was not supported but the device featured all common apps - and the Google Play Store! This meant I had access to any Android game or app! While I was downloading apps, I realized that this was more than a media player, the box had enough performance to act as a second PC. Web browsing worked, so did Skype or any classic Android game. Unless your demands are very high, you'll find the SCISHION V88 TV Box to be a nice alternative to your PC or cellphone - and it all works with your TV.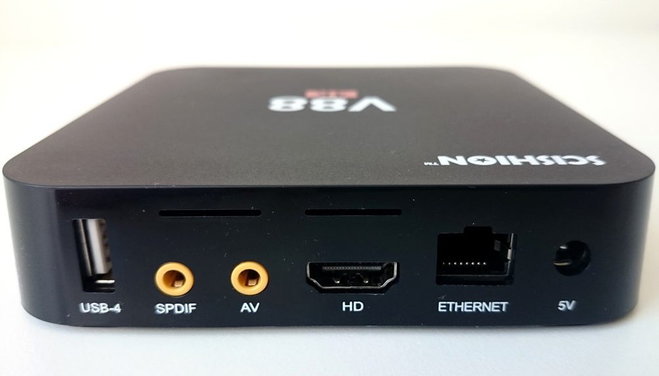 For media playback (still the core feature of the device), Kodi was installed. If you're unfamiliar with Kodi, it's a powerful media center application formerly known as XBMC that provides a decent home cinema experience. It supports any common video and image format and can create entire libraries from your media. Feature-wise, it may seem a little daunting at first but I found it to be a fascinating app that easily played any title from my movie collection. And if you don't like Kodi, you can always install one of the many other media players from the Google Play Store. With all that praise, there was one disappointment though. Unlike advertised, the box wasn't able to provide a smooth 4K video experience, it simply lacks the proper hardware for that. Apart from that, I tried streaming with Netflix - no issues, no lags but also no HD! The box wasn't certified by Netflix and therefore only receives standard resolution streams, a real shame. Youtube worked fine, as is to be expected from an Android device. I didn't experience any shaky WLAN connections unlike reported in other hardware reviews.
My conclusion is surprisingly clear: For under €30, you'll receive a piece of hardware that actually gets you somewhere. Sure, if you're aiming for a high end cinematic experience with Dolby 7.1 surround sound or expect instant response times during menu navigation you'll be disappointed. These features (that I do appreciate) are simply not available at this price point. But if you enjoy watching your videos and browsing through your video library and the Internet on your TV, this device is for you. And I believe the gift receiver will get a lot of fun out of it. By the way, I purchased the SCISHION V88 TV Box on Gearbest (http://www.gearbest.com/tv-box-mini-pc/pp_401685.html, you'll also find all the technical details there) but there are many other sellers.
If you're a regular reader of this blog, you'll know what's coming next: I freely purchased the product myself, I'm not getting paid for this review, no discounts, no foot massages. The Internet is full of bought and biased reviews, this blog will never be.