Four cellphone apps to prettify your photos
I usually do my photo editing on my home PC. From meticulously placed filters and image parameter adjustments to one-click optimizations, it all depends on my mood and the quality of the photo. When I was recently out and about, to the extent permitted by the current situation, my cellphone was again stretched to its limits. The morning mountain panorama seemed more grayish than mystical, the backlighting was anything but ideal, and I could have taken better care cropping my shots. So I spent a quiet evening in my hotel room to do some prettifying. Here's what I found!
Snapseed is your typical bread and butter app. This unspectacular but well-rounded free image editor is offered by Google and comes with various nice "Looks", i.e. filters, that can salvage many shots right away. Each filter comes with a preview and is instantly applicable. The tools section includes your traditional features, i.e. white balance, gradation curves and fine adjustments (brightness, contrast, saturation, etc.). It also supports cropping, rotating, fixing perspectives, and repairing your images. Everything is well implemented. Unsurprisingly, as the former developer, Nik Software Inc, has also worked for Apple and Adobe. These folks know their stuff! And since they seem to be extra fond of filters, they've included several others, with dulcet names like "Drama", "Retrolux", or "Noir". "Head Pose" can adjust the physical features of faces, like pupil size, smile and focal length, in case your family had that sheepish or pinched look about them. A respectable HDR filter and a focus tool with decent softening are also part of the mix. This app is certainly worth checking out, if your goal is to quickly prettify a few shots. (Android / Apple)
If you're diving into your family history, or if you're getting to an age, you may find yourself occasionally sending black & white shots from your cellphone. The first ever photo of me as a child was taken in black & white. You may be familiar with the degrading images of that time, phony bear skin and all. While black & white can be charming, our viewing habits have changed, and a little color can be fascinating too! There are multiple apps to colorize photos. I settled for Colorize Images, after a few test runs. The app "guesses" colors based on the shades of gray present in your images and then does its computations on the developer's server. Faces, grass, the sky, the sea, and other repeating motifs are recognized–with genuinely good results! Of course, there's no guarantee the approximations fully reflect the original scene, and there can be some weird outliers: I'm fairly positive my uncle didn't have tattoos on his first day of school and my grandmother didn't wear flamboyant flower power dresses in 1952 either. Still, given that the colorization is fully-automated, most processed images simply look impressive! And there are a number of sliders to do some fine tuning, in case the app overshot the mark, e.g. saturation-wise. Precious memories deserve some love and effort, after all. What bothers me just a little bit is that there's no batch processing support. I would have loved to add an entire folder. Well, you can't have it all! The first few colorizations are free. Afterwards, you can either watch an ad per image or go the subscription route, starting at $0.89. Certainly not an app for every cellphone, but an impressive feat of software engineering nonetheless. (Android / iOS users may check out Colorize - Color to Old Photos )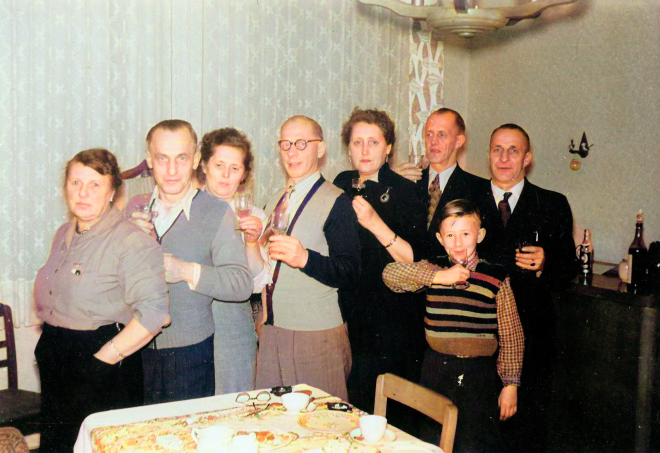 My family partying in the 50s
FaceApp is likely one's of the most popular photo apps out there right now. Do you remember the old gimmicky programs that allowed you to morph the corners of your mouth or skew your nose? FaceApp takes this idea not one but several steps further. If you love to fake your shots, this app's for you! Wrinkles, signs of old age, a few extra pounds, or the absence of a winning smile, it's all fixable in just a few taps. Would you like to know what you'll look like 20 or 30 years from now? The app does a frighteningly good extrapolation. Hair colors and styles, make up, glasses, realistic beards–it's all there. Thanks to a smart algorithm, that not only recognizes faces but people as a whole, you can even replace image backgrounds for a swift change of scenery, whether based on your own images or some internet picture.
On the less serious side, there's certainly ample room for pranks and tricksterism. I must admit, seeing a realistic depiction of my hoary great aunt with a big bushy beard, tattoo, and cool sunglasses is good fun! Sex changes also pose no problem (I'd make for a really ugly woman). Morphing everyday characters into Hollywood stars, figure-wise, or predicting the looks of your future children based on two images is also possible. To complete the picture, the app also comes with options to cut/mirror images, create collages or apply lens effects. In the free version, some tools are locked and a watermark is added to each image. Judging by the statistics, this doesn't deter users or ruin their fun though. $29.99 per year for the unlocked app is a hefty price tag, but the results speak for themselves, and the makers keep adding new features constantly. Based on the adoption rate, the younger generations seem to consider this app a worthwhile investment, it seems. (Android / iOS)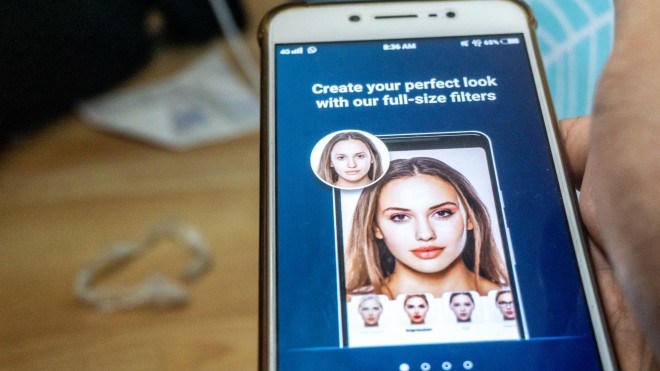 FaceApp for the perfect look–or prank
Naturally, software behemoth and photo specialist Adobe also has a stake in the mobile app market, with Photoshop Express. After registration (through Google, Facebook or Adobe itself), users are good to go (for free). In typical Adobe fashion, preset filters and tools are of a high quality, everything feels like a slightly stripped down but still elegant Adobe product. There's a sheer endless supply of filters, adjustable through tiny sliders. The developers obviously put a lot of thought into their white balance and black & white tools: Instead of brooding over tonal values, users are presented with a trial and error based playground. Testing out the myriad of available filters can certainly make for an evening-filling fun experience, if you're into these things, especially since numerous portrait, nature and color filters are also included. This part of the app is not for the kind of user who seeks fast-paced results, but it is undoubtedly well designed. You really have to force yourself not to try out each and everyone of the filters, because, though results vary, they almost always look good. Filling tools, that will add additional appeal to your images by adding raindrops, dirt, paper or watercolor-like textures, are still in beta. I found none of them really enhanced my images, but tinkerers and explorers may think otherwise. Naturally, basic image manipulations, like rotating, resizing, and mirroring, are supported and well-implemented. The large set of image correction tools is where it gets really interesting again. Adobe offers a raft of options: From sharpening, denoising, and dehazing to contrast enhancements and grain removal–there's something to spiff up practically any photo. Softening, vignette and split toning tools are also present–impressive! So grandpa's red eyes during morning get-togethers over a pint are now easily fixable. There's even a dedicated tool that takes care of animal eyes. Naturally, the app is basically an ad for Adobe's Creative Cloud service, with frequent references to the "real" Photoshop. Still, users of the free app enjoy a broad set of features, so it's a fair deal in my book. (Android / iOS)
There are many more image editing apps out there. This is just small selection of my favorites, after all. What other apps would you like to see me discuss? Or do you prefer not to edit your images on your cellphone?