Fire HD 10 tablet review–an overdose of Amazon
Christmas is rushing up fast and many are looking for electronic gadgets to entertain their loved ones or themselves. Amazon's products are frequently part of the equation because of their comparatively cheap prices and aggressive marketing. However, their mere mentioning can cause awkward silence and instantly turn the mood from cheerful to fairly frosty among tech enthusiasts. It's the ubiquitous incentives to buy and the frequent attempts to ingrain Amazon's services further and further into the daily lives of their users that taints Amazon's devices. I set out to take another look at the situation through Amazon's budget 9th generation Fire HD 10 (32 GB) tablet and learn more about its strength and weaknesses–and its annoyance factor!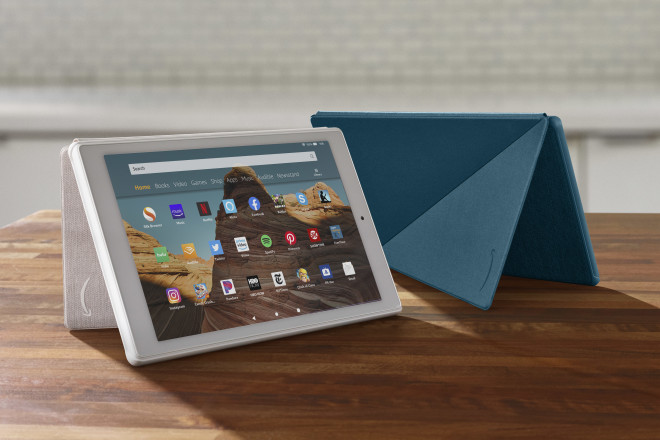 First impression
It's been three years since I held my last Fire HD tablet, and I'm surprised to find that nothing has changed–as far as design goes. There's still a fairly wide bezel around the display; it's plastic all around; there are cameras in the front and back (more on that later) and there's a power and two volume buttons. There's also a memory card expansion slot hidden on one side and a USB-C port on the other. That's as far as Amazon is willing go hardware-wise. The company will likely never win an award for innovative design with this one and the tablet doesn't feel particularly warp resistant or built to last. Still, there's no wobble, no nasty gaps between the edges and the buttons feel sturdy enough. The build quality is passable overall but not great–no status symbol potential here, meaning you won't be seeing hipsters enjoying a latte carrying this device any time soon. So don't even try comparing the Fire HD to an iPad. It's the price-performance ratio that puts this one over the top, provided you're looking for a budget device in the first place. And with a weight of 504 grams, it does feel a little bulky. Time to take it for a spin!
How much Amazon's inside?
The first run immediately reveals who's calling the shots: I'm required to log in with my Amazon credentials. Meanwhile, the start page presents me with the entire Amazon portfolio. If you're sensitive to bloatware, you'd better buckle up! It seems Amazon's definition of home screen somewhat diverges from the traditional design users of Android devices have come to expect. Instead, I'm treated to special offers, music, video, photos, Audible, Kindle, games, Alexa and Free Time content. At this point, I'm honestly surprised they didn't have time to include a short speech from Jeff Bezos. I can move around and stack these items inside a folder to hide but I can't uninstall them. At least, I can reclaim some screen estate this way. A swipe to the right brings up a ton of offers, and so does a swipe to the left–with some minor variation. The underlying operating system. i.e. Fire OS, is no vanilla Android but a modified derivative. It seems easy on resources and hard on rival platforms, either outright excluding them or putting a few obstacles in your way. There's no Google Play Store and, while Amazon's own store has many popular apps, a few current download favorites are missing. This also includes browser heavyweights, like Chrome or Firefox, which don't get a chance to square up against the pre-installed Silk browser. Luckily, Amazon's own Chromium-based, and once excruciatingly frustrating, browser is now technically on par with the competition. Nonetheless, the present situation doesn't leave a good taste in the mouth. There is a way to install Google Play Store (you'll find instructions online) but this will void your warranty. Shame!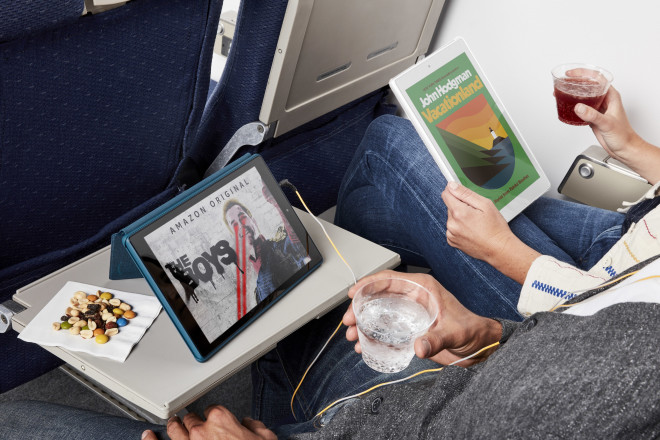 Fire HD 10 in its element: multimedia
Still a lot of bang for your buck
So the Fire HD is just a marketing tool in disguise, right? Wrong! The device offers a lot for the money! Battery life is exceptionally good (11 hours); the MediaTek MT8183 processor is beefy enough to ensure smooth operation, and the display boasts decent colors in full HD. The pixel density is 224 PPI (pixels per inch) and therefore high enough for the Fire HD to double up as an ebook reader. Again: You can pay more for other devices to get better specs but this should be enough to suit average expectations. Playback of Amazon Prime, Netflix, Disney and others is smooth and I barely notice the meager 2 GB of installed RAM. The stereo speakers are another plus and more than good enough for some YouTube viewing. Hi-fi fans will want to rely on dedicated headphones or loudspeakers, of course. To be fair (and objective): So far, I'm impressed. I didn't expect this from a device that frequently sells for $80 (RRP is $140 ad-supported). Yes, the Fire HD usually welcomes me with an ad (mostly for books) and Amazon never stays as far out of my hair as I would like, but you get used to it quite fast.TV or radio ads seem far more intrusive to me to be honest. It's the cameras that remain a problem child with the Fire HD: The shoestring budget clearly shows and the image quality roughly matches that of a cheap cellphone back in 2010. If you have this crazy idea of capturing your photo safari on a tablet: Stay away from this one! It's decent enough for video calls, though. Weighing personal requirements against product price and properties is what makes informed purchases so hard!
Personal needs and Amazon's take on them
We all want the best tablet for the amount of money we're willing to spend, right? It should be fast, reasonably priced, durable, safe and should come with decent battery life–at least before reality sets in. Let's be honest: Not everyone needs a performance powerhouse or industry-grade color accuracy. Subjective happiness usually comes first. And most of us are on a budget, so the nifty $600 entry-level iPad Pro is out of the question. I always find it a challenge when asked for shopping tips to determine the actual needs of prospective buyers. Many conversations take a bizarre turn: Some seemingly intend to handle their entire computing needs through their tablets until you start asking specific questions about their actual goals and required apps. 90 percent of the time the requirements are: Browse the web, read a little, watch videos and maybe play a game every now and then. Fire HD 10 fits this profile perfectly. The games I tested ran flawlessly on the device and the battery didn't disappoint either. The same goes for Readly, watching the news or streaming video. I own two more expensive tablets with a slightly smaller form factor and I find myself still using the Fire HD instead. But what if you generally dislike Amazon?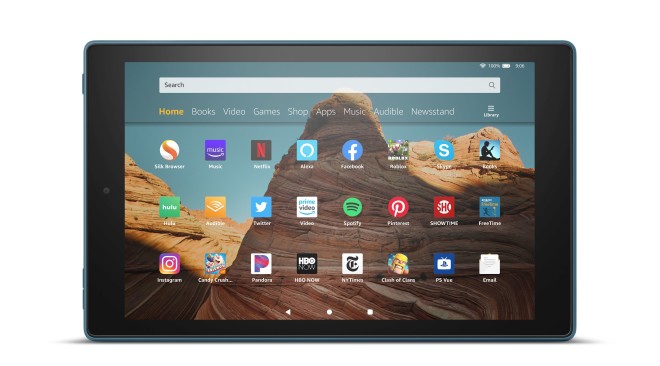 I want nothing to do with Amazon. Is the Fire HD still for me?
Nope. You'd have better luck trying to avoid religion while living among the Amish. Amazon's device concept is clear: Sell decent technology at an attractive price point and make sure buyers stay within the Amazon ecosystem! If you want to avoid Amazon, perhaps go for a Samsung (or other Android-based) tablets instead. You'd still be facing another data-hungry corporatio n in Google though. And there's always Apple, if you want try something else. Some specialists have managed to install vanilla Android on Amazon Fire devices but do you really why take the risk and void your warranty? On the other hand, if you feel right at home in Amazon's ecosystem, you'll love the Fire HD 10!
Conclusion
Amazon made sure the Fire HD 10 covers most of their users' needs and optimized it accordingly. You get long battery life, a stable performance, a good (if not brilliant) display and a solid operating system at a budget price. It's a fair offer that will satisfy your average web browsing, reading and video streaming needs. And this new generation of devices also takes care of the past performance issues. On the down side, there's the ever-present Amazon-centric marketing and the missing Google Play Store. Amazon skeptics should stay away and look elsewhere. But once you've hidden away the loads of Amazon apps/services in a separate folder and disabled the few particularly enervating notifications, there's not much difference between the Fire HD 10 and any other Android-based tablet. So if you can do that, you'll have a lot of fun with your Fire HD–the penny pinchers among us will love the device in any case!