In plain English: Spotify
What is it?
Spotify is a streaming service for music, audio books and other audio content with unlimited song access. There's a dedicated software / app for every device from computers to cellphones.

How much is it?
Spotify is available as a free and as a premium service. Free access provides less features (online access only, fixed order of played songs, lower sound quality) and features commercial breaks. Premium access is available as a monthly subscription for $9.99 and doesn't have these restrictions.
Does it have every song?
Not every song but certainly the majority of songs. More than 30 million songs cover most of your music needs. Some titles may be missing mainly because record companies and Spotify couldn't come to a financial agreement and some artists have exclusive contracts with other streaming providers (and are legally bound to keep their songs out of Spotify).
What does it look like?
The user interface is intuitive and provides a joyful listening experience in a matter of minutes. Users are frequently presented with similar bands or entire playlists all part of a vast music repertoire. Nice: Spotify Connect allows you to remotely control devices such as TVs or set-top boxes like Amazon Fire TV via your smartphone.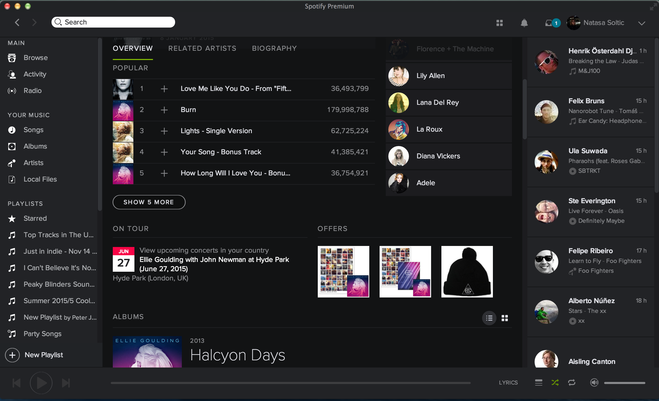 Where can I get it?
Spotify is available for nearly all operating systems / devices, current TVs and a few of the latest cars from popular brands (BMW, Mini, Volvo, etc.). All you need to do is install Spotify on your device.
Do I own the songs? What about offline access?
No, you can only access them. This is not your classic music collection with a slew of MP3s. You either listen to songs online (with full access to the entire collection) or create individual playlists, have the affected songs stored on your device and then access them through the Spotify app. This means you have to load your smartphone with playlists, i.e. songs, before your train trip.
Can I burn my songs to CD or store them on my MP3 player?
You can't. You're not downloading MP3s or similar files, all playback is handled by the Spotify Player app. You might take a detour and record what you hear but not only would this be a step back, it would also be borderline illegal.
What else do you need to know?
Services such as Spotify are highly controversial in the music industry with bands like Portishead claiming that they received a meager €2,300 after 34 million streamed songs. It's obvious that artists make more off CD sales and online song purchases. You have to make up your own mind.
Is it worth it?
Music lovers will get their money's worth with Spotify (or alternatives like Deezer, Napster, Apple Music, etc.) at a fair price. Youtube, Last.fm and other online services also work but offer not nearly as many songs as conveniently. If you're undecided, simply take the free 1-month trial and decide afterwards.
Availability and prices worldwide