The return of Firefox
In the life of a tech aficionado, there are many old favorites, i.e. programs you stay faithful to even in the presence of better alternatives. For years, my favorite browser has been Firefox. Not owned by a large corporation, reasonably fast and with support for countless good extensions, Firefox was my go-to-browser until, eventually, sand got in the gears. The visuals hadn't been updated for years, display errors kept coming up and the speed was hardly on par with the available alternatives. I made the switch and, with a heavy heart, put Firefox on the scrap heap along with my old love, Netscape. Did I grieve too soon? Version 57 promises nothing less than a revolution. Is this the return to its old strength?

Firefox Quantum, as it's officially known, was announced with a lot of hoopla as being "the biggest update of all time" with over 7 million revised lines of code. I take such announcements with a grain of salt. After all, every company is vying for attention. Yet, I can tell from the get-go that things have indeed changed! The interface, which hadn't been touched since 2014, suddenly appears modern and reduced to the bare minimum. The start page alone offers a lot (if you decide to keep it): a search box, the most frequently visited sites, the recent browsing history and Pocket, a news service that keeps you up to date on current affairs. Time for a trial run.
As promised by Mozilla, this thing's a screamer! Since this is a new installation, all previously cached files have been removed, yet I can definitely feel a speed boost compared to the sluggish predecessor! The usual teething problems like minor display errors that dog so many new products are nowhere to be found and a closer look at the resource usage reveals that Quantum requires at least 30% less memory than Chrome for similar pages. Finally, the Firefox team also managed to distribute the workload evenly across all available cores and it definitely shows. The tab that has the focus is always prioritized while background tabs consume far less resources. That's smart handling - and it cleverly maxes out the connection bandwidth for incredibly fast page loads even for sites that make heavy use of animations and images. Respect!
Traditionalists may find the new symbols (library, sidebar etc.) too minimalistic but they get the job done and don't take much getting used to. The extensions page shows me that all my extensions are compatible with Quantum. Lucky me! My favorites have already been updated but especially smaller plug-ins aren't compatible (yet) according to tech forums. That is to be expected since much has been changed under the hood but it's still a fly in the ointment. In the coming weeks, developers of popular add-ons will have to update their projects to work with what is not just a major update but a completely new browser.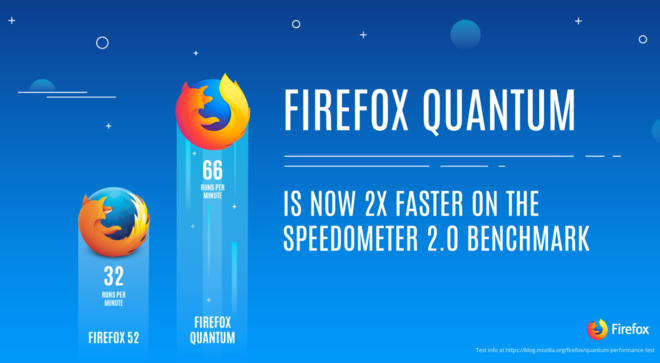 Visible pride in new found speed

Firefox now sports a cleaner layout, dubbed "Photon" by Mozilla, that features logically grouped elements. Settings are arranged in rows instead of columns and everything feels more consistent. "Library" provides a concise list of bookmarks, downloads, the browsing history and synced tabs. The symbol bar is still customizable and touch-friendliness is no longer an issue. Also, cross-site tracking prevention has been directly integrated into the browser so there's no more need for additional software. Like Safari, Firefox Quantum comes with dedicated privacy features that are enabled by default for private browsing but can also be activated for regular web browsing windows under "Privacy & Security".

I had already written off Mozilla but they managed to surprise me. The overall feel is just right and we might be looking at a huge comeback. Whether it can fully replace my beloved Opera is for future tests to find out but that they got me thinking at all is an achievement in itself. To be clear, Firefox isn't running circles around the top dogs in terms of speed or looks even though some media outlets can't seem to stop hyperventilating. But all the effort Mozilla put into it in an attempt to catch up to the competition is truly noticeable. Firefox isn't backed by a huge corporation and competition is always good for business. That alone might be reason enough to consider switching!

What I would like to know: are you using or thinking of using Firefox (again)?

Pics: Firefox / Mozilla