Putting nostalgia to the test: 168 classics on a Gameboy clone
There's something magical about nostalgia, and childhood memories touch us on a deeper level. Recently, China-based company Anbernic released a Gameboy clone at a small price point - and it doesn't suck, kinda! The hardware is described as "solid" and the device features 168 built-in games. The list includes classic titles still loved by millions around the world today. Reason enough to put this thing through its paces!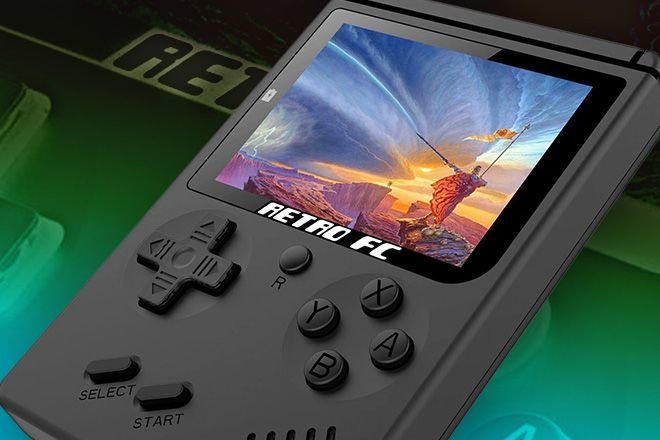 It's fairly difficult to keep track of the Chinese consumer elctronics market. Yet, among all the future electrical waste, there are still jewels to be discovered. That's why I ordered "Retro FC" for a little over €20 and unboxed it three days later. My first impression was indeed promising. Aside from the device (which is smaller than a Gameboy), the box includes a USB cable (no charger) and an AV cable to hook it up to your TV or computer monitor. The design is familiar and features the classic D-pad along with a few buttons including "Start" and "Select" - no headphone jack, unfortunately. It's not high-tech but the build quality is decent, no creaking, no lose parts. The device should easily last me through many intensive gaming sessions!
Looks like I am off to an auspicious start (coming from a traditionlist's point of view): There are no loading times and I am instantly greeted by the game selection screen. Scrolling through the long list of games feels like a revelation! All my childhood classics from NES, Amiga and other ancient computer systems are there with several "Super Mario Bros." titles, "Tekken", "Mega Man", "1942", "Bomber Man", "Donkey Kong" and "Pac Man" - enough to make my eyes sparkle with joy. Alas, some titles like "Super Mario World" are just cheap copies that bear little resemblance to the original games. Tetris is missing, how scandalous! As I start playing, I revert back to my younger 13-year old pimply self with a crush on the neighbor's daughter. This experience brings back so many memories. I still partly remember when I played each game even though I was supposed to sleep. Oh sweet nostalgia!
Naturally, the display can't stand up to modern cellphones. It's rather cheap, but so were the visuals of these classic games that targeted old consoles and CRTs. Besides, unlike with the original Gameboy, I can now finally enjoy backlighting with my Gameboy games. Yes, the games are low-res but that's part of the magic. It's astonishing how developers were able to create decent games out of just a few pixels and colors. However, with some games, contrasts and colors can be a little underwhelming leading to blurriness and slightly taking away from the gameplay and visuals. If you're after the polished look of state-of-the-art smartphone displays, steer clear. Everyone else: Enjoy endless rounds of colorful gaming.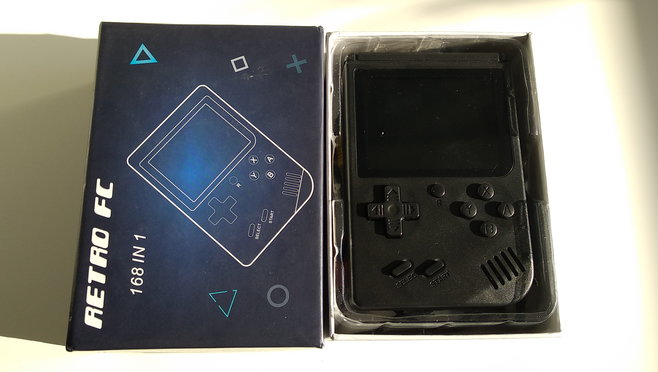 A lot of gaming fun in a simple packaging

Time to talk about the sound. The built-in speaker does a decent enough job of reproducing the classic 8-bit tunes with a tiny wheel acting as volume control. You can turn the music down until it's barely noticeable but there's no way to switch if off completely. That's a minor grievance as the sounds may drive you nuts after prolonged exposure - you'll want to drown it out with background noise eventually. The battery is better than expected and, would you believe it, replaceable! It sells for roughly €5 which is great! The manual promises six hours of battery life, I got five which is still a respectable result. Charging happens via USB so a power bank might be the perfect companion for nearly unlimited gaming pleasure. Need a way to silence your kids during a long car ride? This might be it!

If you plan to use the Retro FC with your TV, you'll be in for a nasty surprise. The resolution simply looks ghastly on modern TVs so you're better off sticking with the 3-inch display. While the game selection is vast, some titles feel slightly out of place. Aside from NES classics, newer games like "Angry Birds" or "Plants vs. Zombies" were ported to the device - in a poor fashion since neither touchscreen nor mouse are available there. This makes playing them a control nightmare. Are all the games hits? Certainly not, but no-one would expect that from a list of 168. Still, there are so many jewels that I can't stop raving about the thing.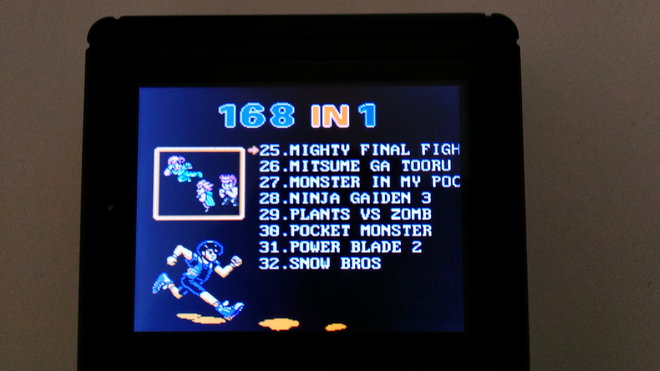 Pure nostalgia on a pixelated display

Time to address the biggest downside: there's no ability to save! This makes playing longer games a lesson in patience, since every restart literally means starting from square one. I wish they had included a save feature to continue games at a later time. As it is, I have to use pause to stop and continue playing. Shame!

I also question the legality of the device. Though all games are old (or ports), I find it hard to believe the games were properly licensed but I couldn't get a response from the manufacturer to this effect. Then again, the device is freely available, e.g. through Amazon who usually quickly pull shady products. And Nintendo's lawyers have a reputation for having the response time of a hungry piranha in a washbasin, but they've been holding back so far.

Are you expecting an unbiased summary? Fine, I'll try! You get a lot of games on a working system for very little money. Visually, the titles show their age and missing features like a save option are a nuisance. Still, there's fun to be had because, even after decades, the games still offer enough playability. Whether you're jumping through 2D worlds with Mario or mashing buttons while you're thrashing opponents in Tekken, it's hard not to smile in the process. Yes, today's cellphone games have superior visuals but these are the classics!

Author's side note: Naturally, I don't receive a single dime for my review and I paid for the device out of my own, well Ashampoo's, pocket - as I do for every review on this blog.